There are many places in Portugal that are not only children-friendly but make for a wonderful and interesting day trip, and Conímbriga is one of those. Classified as a National Monument in 1910, this settlement is located in the municipality of Condeixa-a-Nova, where you'll find the Pousada of Condeixa, the perfect place to stay and use as a base to explore the area!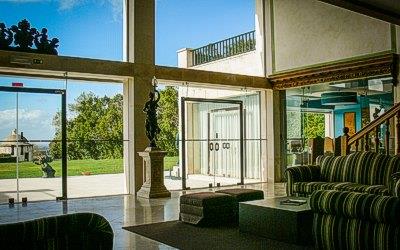 While the site is now famous for its connection to the Roman Empire, before Romans inhabited it, Conímbriga was actually occupied by the Cynetes or Conii, a pre-Roman people of the Iberian Peninsula.
What is Conímbriga?
Conímbriga is an archaeological site bordered by stone structures that measure around 1,500 metres in length. Historic evidence shows that this walled urban settlement used to be inhabited between the 9th and 7-8th centuries BC, and it's still in amazing physical condition. When you visit these ruins, you'll be able to see walls, columns, homes and water systems built by the Romans.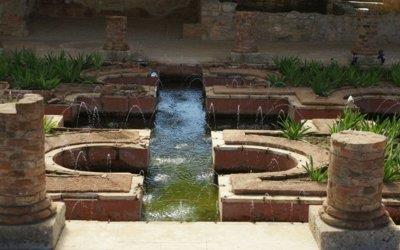 When the Sueves invaded, between 465 and 468 AD, part of the city was destroyed, although you can still find the forum, the amphitheatre and the thermal baths, staples in every day Roman life. Archaeologists estimate that only 10% of the city has been excavated, which means these ruins might actually be the largest in the country.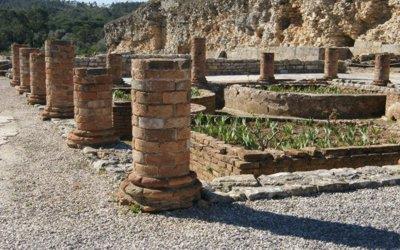 Casa dos Repuxos (House of the Fountains)
Inside Conímbriga you can find Casa dos Repuxos, what was once a residence for a Roman aristocrat. Its construction dates back to the first century AD, and archaeological excavations performed in 1939 revealed the extensive nature of the building, so much so that not every part of it has been excavated yet – just like the overall city.
The mosaics and fountains were restored in 1953, and the protective walls around it were built in 1991, in order to preserve the structure as much as possible. The original hydraulic infrastructure is still preserved, and there are more than five hundred water jets surrounded by mosaics that depict mythological passages, monsters and hunting scenes.
What Can You Find Nearby?
While Conímbriga itself already has plenty to see, if you head out and decide to explore the surrounding areas, you'll find more places to enjoy with your family!
Another children-friendly locatioyou n you can visit nearby is called Portugal dos Pequenitos. Open since June 8, 1940, this is a fun park where children can learn about Portuguese history through miniatures of national monuments and typical homes of several different regions of the country – miniatures that, of course, they can fit inside of!
You can also visit Quinta das Lágrimas, which is located in Coimbra, and is a beautiful estate famous in Portuguese history and culture for its connection to Pedro e Inês, two lovers with a tragic and yet romantic story. You can visit this almost mythical location and admire the architecture, walk through the gardens and take pictures with a gigantic tree!
Conímbriga is a popular destination for families, as well as for school field trips, and it's a truly spectacular site rich in history and culture. To learn more about places you can visit or
where to stay
, don't hesitate to
talk to us
and we'll help you choose the perfect Pousada for your holiday needs!