With summer quickly approaching, Portugal is already experiencing wonderful weather. With the beach season already kicking off, knowing where to visit to experience Portugal's best beaches can be tricky. TripAdvisor has composed a list so that you can choose your ideal beach destination.
5. Praia do Camilo, Lagos
Accessible through a wooden stairway composed of 200 steps, Praia do Camilo provides quite a breathtaking view. This sandy beach is framed by rock formations and cliffs, located close to iconic Praia Dona Ana. With golden sand and azure, clear waters, this beach is perfect for swimming and surfing.
Staying at our Vila Valverde in Lagos, you will be only a short drive away from the stunning Praia do Camilo: in ten minutes you'll be able to enjoy this amazing beach.
Best Time to Visit: May – October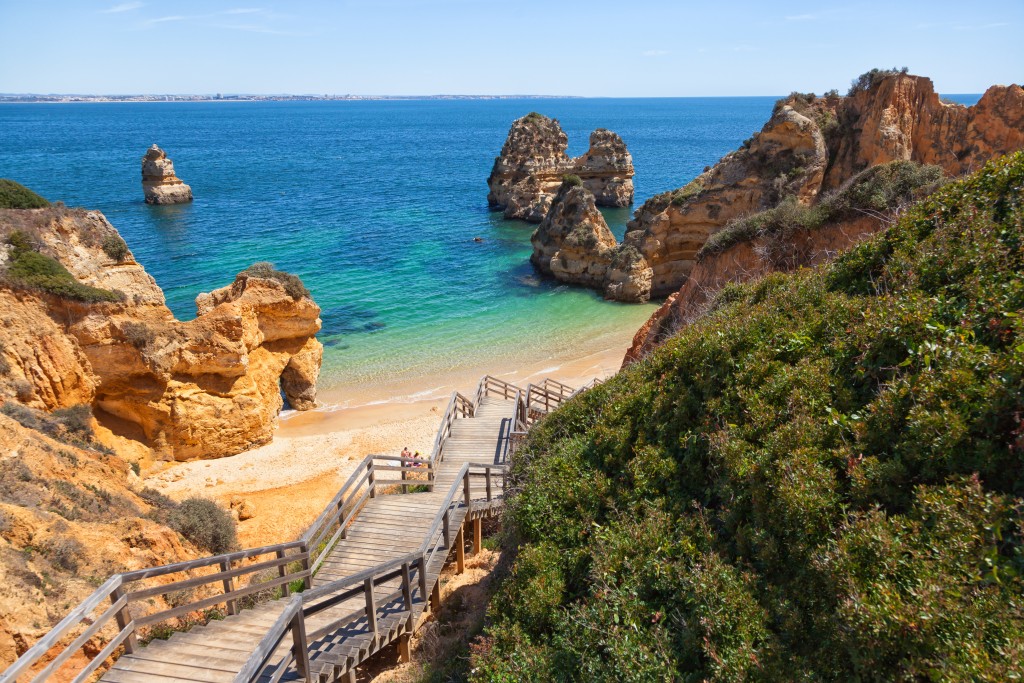 4. Praia do Guincho, Cascais
Located near the Serra de Sintra National Park, Praia do Guincho sports big waves and a calming breeze that provides the right environment for surfing. You can also enjoy windsurfing and kitesurfing! Only 6km away from Cascais, you'll find a regular bus service that will take you to this beach. A fun fact about this beach is that the James Bond film On Her Majesty's Secret Service from 1969 shot their pre-title sequence there.
Staying at our Pousada de Cascais, you'll be around 15 minutes away by car.
Best Time to Visit: June – September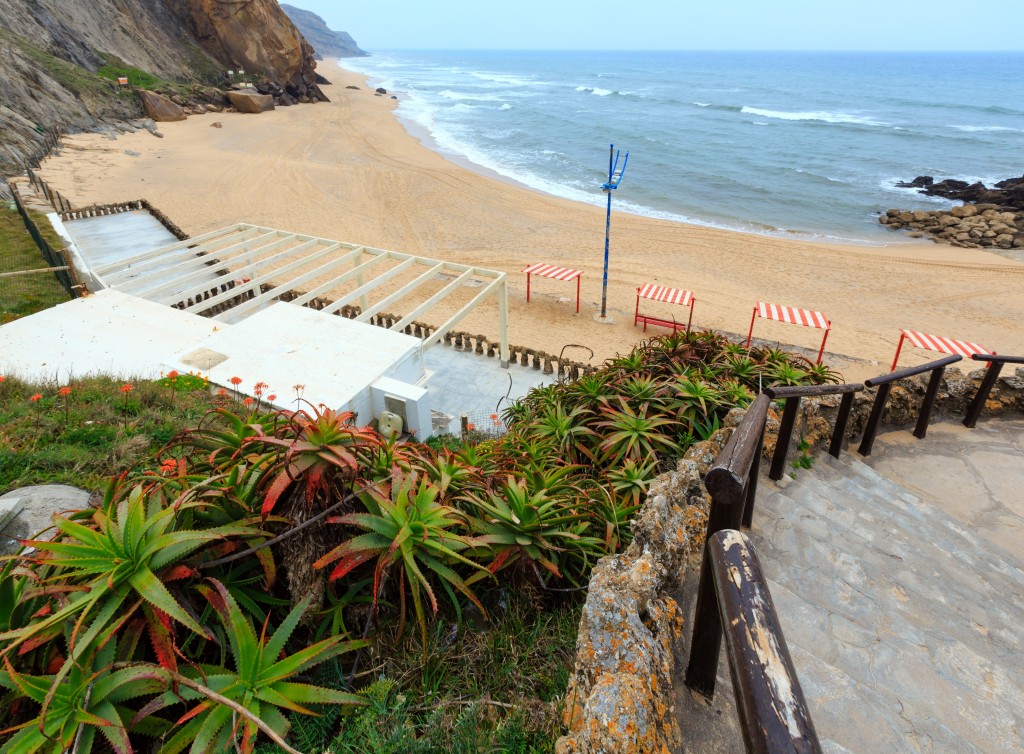 3. Praia da Marinha, Carvoeiro
Third on the list, Praia da Marinha is one of the most beautiful beaches in Portugal. Considered one of Europe's best destinations by the European Best Destinations/ EDEN European Destinations of excellence and previously one of 100 featured in the Michelin Guide, it's a true wonder. Its clear waters and stunning views have made it a top pick by international advertising agencies and television stations.
Our Pestana Vila Sol is 45 minutes away by car from Praia da Marinha, allowing to be well situated and enjoy what the Algarve has to offer.
Best Time to Visit: May – October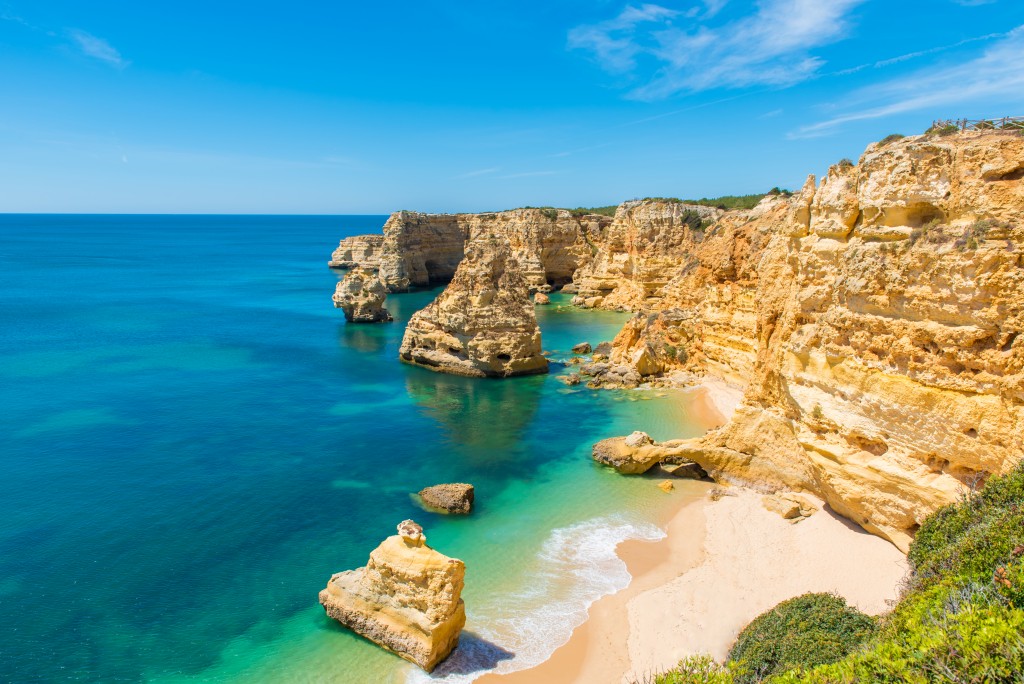 2. Praia da Rocha, Portimão
If you fancy visiting both Praia do Camilo and Praia da Rocha, then staying at our Vila Valverde in Lagos is a perfect choice! Approximately half an hour away by car, Praia da Rocha in Portimão is near the Fortaleza de Santa Catarina de Ribamar, a fortress dating back to King Filipe III.
One of the most famous beaches in the country, Praia da Rocha got its name due to the surrounding rock formations. The local seafood and nightlife make this location a perfect choice to visit.
Best Time to Visit: April – November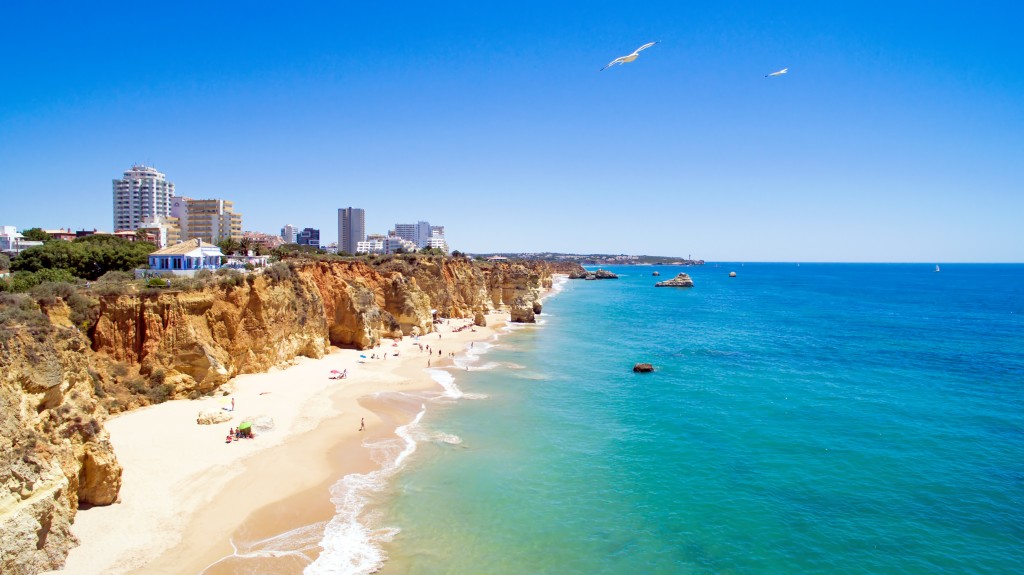 1. Praia da Falésia, Albufeira
And in number one, Praia da Falésia spans from Vilamoura to Olhos de Água with its vast sandy coast. Pine trees and cliffs provide a colourful display that frames the beach, the surrounding relaxed environment and great cafés and restaurants a great representation of Portuguese culture.
Our Pousada Palácio de Estoi-Faro is located approximately 40 minutes by car, conveniently located for frequent trips to Faro. You can enjoy this beach and all it has to offer, taking in the panoramic views from the clifftop.
Best Time to Visit: April – October