If you're planning on visiting the Alentejo region you can't miss Évora, the only Portuguese city to be a member of the Most Ancient European Towns Network. Its history spans more than two thousand years, and it's still etched on the buildings of the city and on the dozens of megalithic monuments in the area.
This city is in the middle of the Alentejo's wide plains, and the landscape is characterised by olive trees and vineyards, as well as the intensive planting and harvesting of cereals, with pasture regions and forests of cork and oak.
The Chapel of Bones
This chapel belongs to a church and is one of the best known monuments in Portugal. The interior walls are completely covered and decorated in skulls and bones and, before crossing the threshold, you're faced with the words 'We, bones that are here, await yours.' This chapel was built in the sixteenth century by a Franciscan monk who wanted to transmit the message that life was just a mere 'passing-through' on our way to Heaven or Hell.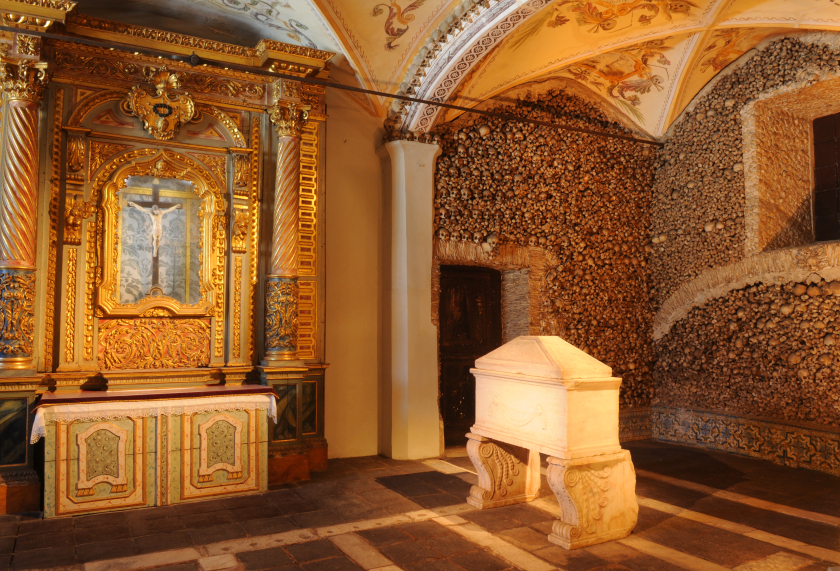 The Cathedral of Santa Maria de Évora
This is the largest cathedral in the country, and it was built in the beginning of the twelfth century to look like a Gothic fortress. The facade is dominated by two asymmetric towers, which are flanked by a passage with figures of the twelve apostles.
The Roman Temple (or Temple of Diana)
This temple is one of the main symbols of Roman occupation in Portugal. It was built in the first century to serve as a place of worship to the emperor Augustus, and now stands in the middle of the city with fourteen of its columns still intact. As for its second designation, it was initially thought that the temple was built in the honour of Diana, Greek goddess of the hunt, and, although that was found not to be true, the name stuck.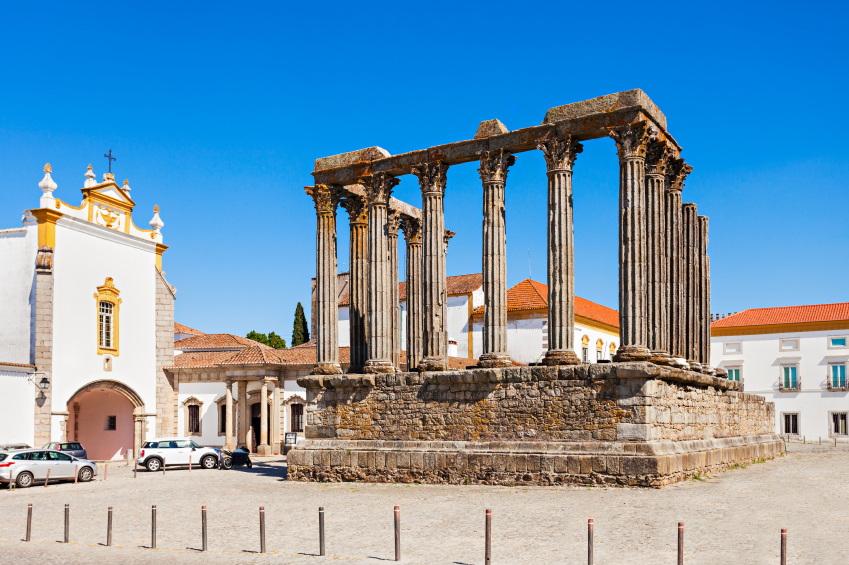 Pão-de-ló
To end on a sweet note, when visiting Évora or any place in the Alentejo for that matter, you should try this cake, as it's become an icon of Portuguese gastronomy. It's probably the simplest of all Portuguese desserts, because it's only made out of three ingredients: eggs, sugar and flour. However, there are several recipes from all over the country, and what really distinguishes them from one another is the quantity of the ingredients and how long it needs to stay in the oven.
If you're interesting in visiting this historical city, why not stay at Pousada Convento de Évora, one of our Pousadas of Portugal, and take a look around? Contact us, call us on 0871 218 1751 or (+351) 258 82 1751, or follow us on Facebook, Twitter and Google+.